Garlands are an excellent way to bring the crisp and marvelous beauty of the holiday season into your home. Their compact size and flexibility make them the perfect addition to smaller spaces, such as mantels, doorways, and stairs. Here are several wonderful Christmas garland ideas that will fill your home with the splendor and holiday cheer everyone loves:
Bringing Yuletide Delight to Your Doorways and Entryways
Create the perfect entrance to your holiday home by hanging a clean and simple Christmas garland on your doorway. This brilliant idea serves as the perfect beginning to your yuletide theme. At the same time, this also creates a jubilant statement to your friends and neighbors that your family is already in the spirit of everyone's favorite time of the year. For a more festive look, make sure to play with the classic Christmas colors of red, green, and white. You can also match this with a precious wreath or a pair of topiary trees.
For a more elegant and bountiful display, you can try Tree Classics' Venetian Elegance Christmas Wreath. This piece features pine cones, bronze ornaments, gold streaks, and deep red flowers, creating a vision that is both resplendent and sophisticated. Designed to elevate any area in your home, this is another exceptional addition to your entryway. Match it with its companion wreath for a more exquisite showcase.
For a more glowing and captivating display, hang some bright clear LED lights on your garlands. This will accentuate the fine details of your foliage and bring lovely warmth in your area. This is ideal for those cold winter nights. The front of your house will be bursting with life with this pleasant addition.
Turning Your Mantelpiece into a Spectacular Christmas Showcase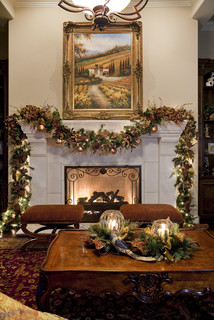 Another ideal location for your garland is the living room mantel. This does not only complement your tall Christmas tree by mirroring the beauty of your choice evergreen, but also delivers a statement of boldness. Pick out a garland that echoes the style and look of your overall Christmas decorating theme. This will no doubt make for a stunning and alluring display.
Garlands can instantly infuse your home with a touch of royalty. Hang a bevy of gold pine cones, balls, ribbons, and even small figurines. Match the colors with your drapes or even sofa set for a timeless appearance.
Filling Your Living Room with the Charm of the Season
The living room is often the center of holiday activities, so it should be filled with all the glory of the season. Hanging a prelit garland across your ceiling showers your space with an unmistakable festive atmosphere that will further enliven your home. Make sure to place this in the center of the room to cover the entire area.
Windows are also ideal places where you can hang your garlands. This addition not only brings a touch of charm into your space, but also frames your vision of the outside. What's even more magnificent is that against the clear radiance of natural light, the garlands look more delightful and fill your home with a lush atmosphere.
Creating a Yuletide Path in Your Home
Finally, garlands can also accent stair railings as they create the perfect path towards the center of your holiday celebrations. Homeowners will feel excitement once they see this enchanting vision of holiday grandeur and head down the stairs. Don't hesitate to add texture and color to these fine garlands by hanging small ornaments. This will be a remarkable sight for the family and for guests.
Add more beauty and elegance to your home and festivities this holiday season with these delightful garland ideas from Tree Classics.